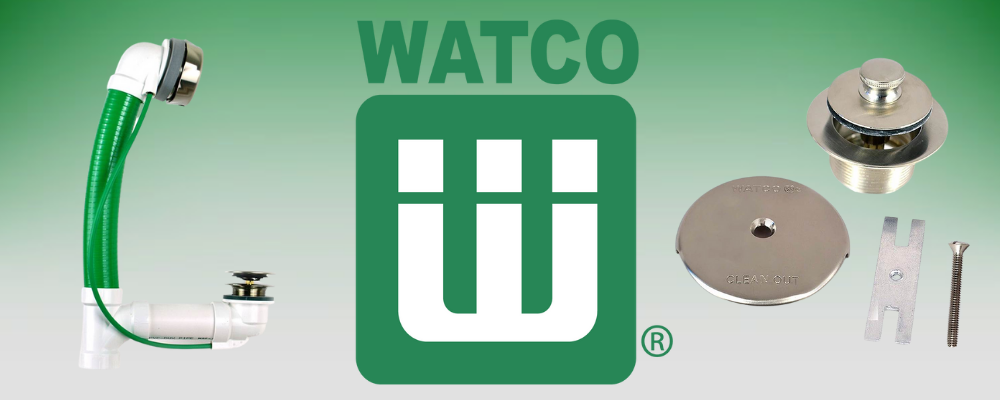 Find them on:
About Watco Manufacturing Company:
Watco is the leading manufacturer of bath waste, bathtub drains, trim kits and bathroom sink drains. Headquartered in Independence, MO, Watco has revolutionized bath waste and has earned over 100 patents. Watco's goal is to exceed the expectations of plumbers and create products that save plumbers time and money.
Since 1970, they have helped save hotels, motels, homes and apartments huge amounts of time, money and headaches. Choose your bath waste system wisely, and you ensure years and years of trouble-free operation and minimal maintenance. Take a moment to look at all the solutions Watco offers.
---
Featured Product:
The Watco Flex bath waste is the perfect solution whenever you run into misalignment between the bathtub overflow and the bathtub drain connection. The Flex924 has flexible PVC tubing that connects the overflow to the sanitary tee of the bathtub. It bends to take care of misalignment and eliminates the need to install multiple offset fittings and glued joints.
The Flex924 comes standard with a test membrane at the overflow and test plug for that drain that is testable up to 5 floors. The snap-on, Innovator overflow plate assembles by hand, requires no screws and installs much easier than one- or two-hole overflows. Because the Innovator overflow extends through the tub and is locked into place with a retainer nut, it eliminates leaks due to loose or faulty overflow attachments. It's the perfect product when you are faced with a difficult installation.