Brute® FT Floor Standing Boiler Cascade Feature
Bradford White is pleased to announce that the following new features have been added to the Brute® FT floor standing heating only boilers (BFTHF):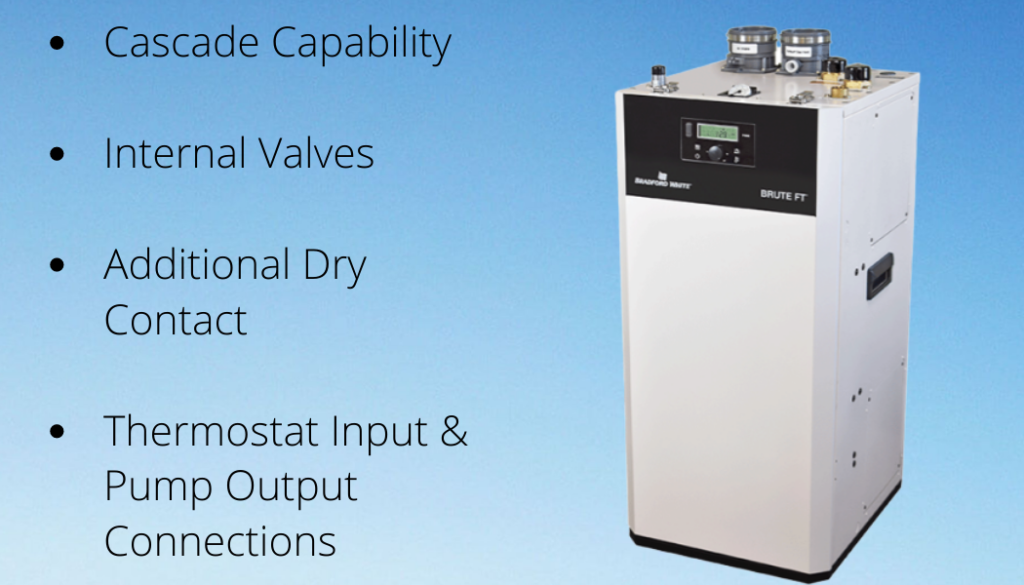 Like the Brute® FT wall-hung heating only boilers, multiple Brute® FT floor standing heating boilers (BFTHF) can now be connected via a cascade communication cable to create a bank of boilers that work in a cascade system. These systems are perfect for larger homes, small to mid-size multi-family applications, and light commercial jobs, as up to 20 boilers of the same size can be controlled together.
Each system requires one cascade sensor (part number FT1868) which serves the entire system. In addition, each boiler requires a communication cable (part number FT1861). For example, in a fourboiler cascade, you need one FT1868 sensor and four FT1861 cables. The system sensor connects to the lead boiler, as does the outdoor sensor for outdoor reset operation.
A cascading instruction manual that is dedicated to the Brute® FT heating only floor (BFTHF) and wall hung (BFTHW) cascade systems can be found here and on the Bradford White website.