Bradford White Product Launch: ElectriFLEX LD™ & Light Service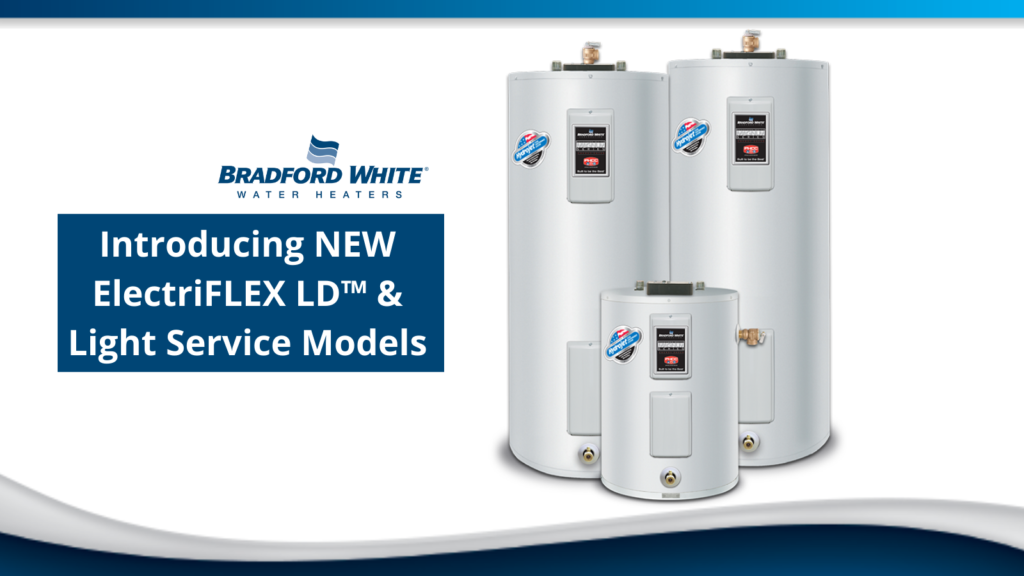 Introducing our NEW Large Volume Light Service Models
The new Light Service Commercial Electric Upright models are now available from Bradford White. These 65, 80, and 119 gallon models are available in 277 volts, single phase 12.2kW total input (two 6.1kW elements simultaneously wired) only. Built with durability in mind, all models come standard with triple rated incoloy elements. The new Light Service models have a 6-year warranty.
The ElectriFLEX LD™ Lineup Has Grown!
The ElectriFLEX LD™ Upright Commercial Electric Water Heaters from Bradford White has new gallon capacity models available. These new 65, 80, and 119 gallon models are available in multiple voltages and ship from factory at 12.2kW. These models are built with quality and engineered for efficiency, performance, and long-lasting reliability.
Because the ElectriFLEX LD™ is field convertible using conversion kits, they're ideal for fast replacement. You can convert phase, voltage, and wattage to quickly meet your customer's needs. These ElectriFLEX LD™ models have been created to comply with NAECA III requirements to deliver excellent efficiency to your customers.
The ElectriFLEX LD™ Upright: Available in 30, 40, 50, 55, 65, 80, and 119 gallons.
The ElectriFLEX LD™ Lowboy: Perfect for tight spots like closets or crawlspaces. Available in 19, 28, 37, or 47 gallons.
Professional customers can now download ElectriFLEX LD™ and Light Service technical documents on the Bradford White For The Pro® website.