New to our Line Card: LeakSmart
Monitor water usage in real-time to help reduce your risk of water damage while also making your home automation more efficient.
---

Total Home Water Protection
Control the water activity in your home by monitoring and detecting
in-wall leaks to appliance level leaks with our new state-of-the-art Protect
by LeakSmart with Flow system. Paired with strategically placed sensors
at high-risk appliances, LeakSmart prevents water damage, protects your
property and keeps cherished memories safe – wherever you are.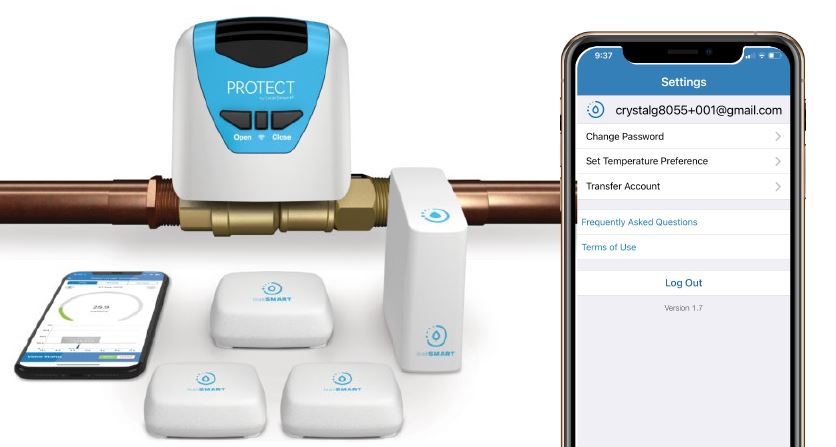 Automatic Shut-off
At the first sign of unwanted water, the LeakSmart Sensor springs
into action, sounding an alarm, sending an alert, and prompting the
LeakSmart valve solution to shut off the main water supply.

24/7 Monitoring and Protection
LeakSmart Sensors monitor temperature and humidity so you can avoid
problems like freezing pipes or mold-causing moisture and can even tell
you if they have been accidentally moved or flipped over. When a leak is
detected, data is sent in real-time to shut off the water main and notifies
you through the LeakSmart app protecting your home 24/7 no matter
where you are.

Advanced Water Flow Analytics
With our new Protect by LeakSmart with Flow, you can now control and
manage water usage to create a water-efficient home.
The world's most intelligent leak and flood
protection system.
---
ADDITIONAL MATERIALS
About the Company: Waxman Industries has been a trusted worldwide manufacturer of bathroom and kitchen hardware products, located in Cleveland, OH, for nearly 90 years.
Waxman used its company's cutting-edge research and development team to take leak detection to the next level. In turn, LeakSmart was founded.
Today, LeakSmart protects the entire living space from unexpected water damage.